Rogelja herbal farm - inspiration for health and relaxation
The herb farm Rogelja, caught in the embrace of the beautiful karst village Vojščica, which lies near the Italian border in the western part of Slovenia, can be reached by car, and not far away there is also a cycling route. The heart and soul of the herbal story is Mrs. Magda, a nurse by profession, who has always been interested in alternative medicine.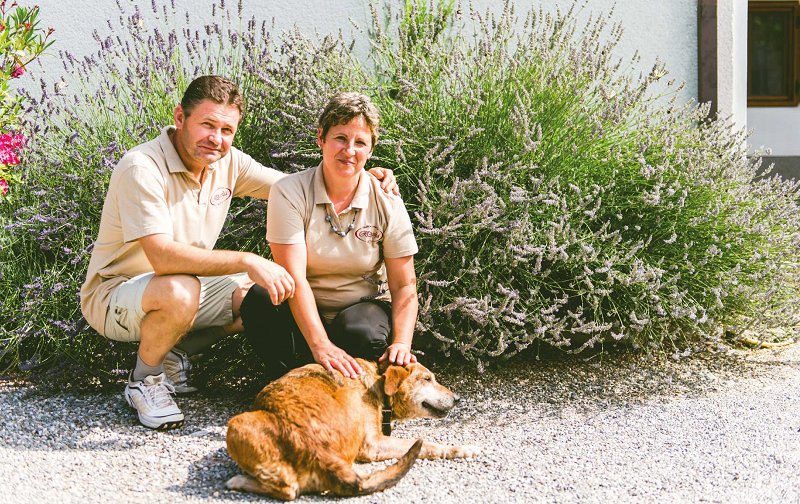 Together with her son Tadej, they share a passion for nature, healing, well-being and, last but not least, hospitality, which is a firmly rooted virtue of their grandfathers on the homestead. The four herb gardens, arranged in different locations, grow over 80 herbs, which they use for the final products. As Tadej says, they do everything themselves; from field cultivation, to planting, harvesting, drying and packaging. That's why their products range as boutique. They joined the Open Villages project without hesitation, as they are proud of their family tradition, which they will bring closer to new guests, and at the same time they have a lot of knowledge and experience that they like to share with visitors. They are always willing to adapt the experiences to the different wishes, needs and interests of the guests. They have the most visits from spring to autumn, when the farm is also the busiest. Herbalist Magda is happy to present the secrets of using herbs for specific problems or for a healthier life in general, and they also like to prepare herbal workshops and tastings where you can try different herbal products. Through the tasting program you can discover house liqueurs, herbal spirits, teas, spreads and sweeten with house herbal cookies. A special feature of their offer are Magda's therapeutic herbal massages, which must be booked in advance. As Tadej is also a local guide, he can take you on a cave discovery or an excellent tasting of local products on the surrounding farms and wine cellars.