Karra's wonderful story - discovering the hidden Karst
When you drive from Sežana towards Nova Gorica, you will see a typical compact karst village on the slope of the Tabor hill. Tomaj, one of the most beautiful villages in the heart of the Karst, like the Sleeping Beauty, is waiting for you to discover its history in the middle of searching for treasure among the stone karst houses. For Jurij Clemenz and Vojka Žgavec Clemenz, the Karst is magical and attractive, stunning and surprising. And with the help of Karra, a brand they created years ago, they also want to present the Karst to the guests of the Open Villages in an original and different way, personally and especially. They include dozens of partners, with which they offer their guests custom boutique experiences. They show the guests how the people of Karst live, why they have burnt hands and black nails, how the family lives. Their guide is "my home is your home", so they also opened the doors of their home in Tomaj. They host visitors in their living room, on the terrace and in the garden and their groves, and at the same time they open the doors of workshops with more than fifty Karst and Brkini partners on both sides of the border, including the Italian side.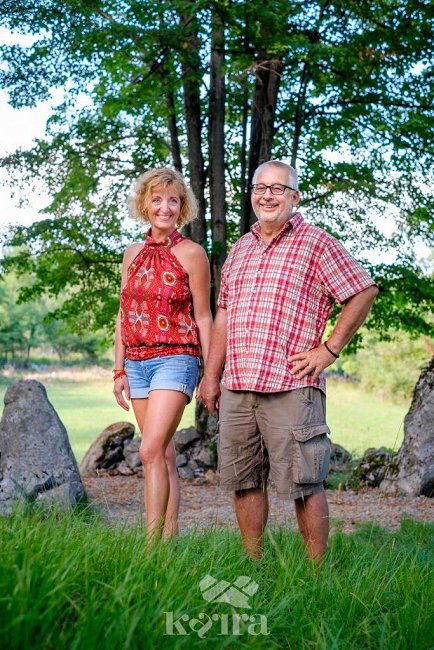 They offer their guests a special Karst experience with Karst escapes, which are a great party with friends, colleagues or an original addition to a family trip. They created two treasure hunt stories, an escape room and an escape room in the woods. They can boast that Tomaj has become the most gambled village in Slovenia. The igrification is intended for small groups, from two to five people, who discover half-extinct and forgotten stories among the locals through games, loops and puzzles. They also prepare boutique, custom-prepared experiences. It can be just lunch in the orchard or an exclusive romantic dinner with torches with a violinist in the grove. In addition to Kara, the couple, both at home and in neighboring Italy, Austria and Germany, penetrated with boutique, home-made Mmm Beatrice jams, which they also combine into Karra's stories. In their garden, under an old mulberry tree, hedonistic gourmet tastings take place, consisting of dishes from local produce, accompanied by their small culinary dishes - 29 types of jams, two chutneys and tomato sauce. For two years now, they have also been preparing a jam quiz for guests, preferably in the garden, under the shade of an old oak tree. They divide the guests into two groups and take them on a journey through the world history of jam. In the end, the most delicious part follows - tasting the jam and guessing the ingredients in it.