Mitja Kobal and his love for karst stone
Aljoša Kobal Skomina and Mitja Kobal made their home in a once secluded house on the outskirts of Branik - Rihemberk, just below Braniški grad – Rihemberk Castle, where the Vipava Valley and the Karst plateau meet. During the repair of the old house and the demanding landscaping, which was littered with stones, Mitja, as his wife Aljoša says, felt a love for this unique natural element. He rolled up his sleeves and began to restore the stone karst wall in the drywall technique.
Today, as a certified master of drywall construction, he tries to maintain a connection with the past with his mission. After the Second World War, the surroundings were destroyed with concrete, which Mitja today, with the help of people who are proud of their roots and the knowledge of their ancestors, is restoring and preparing workshops for the dry construction of stone karst walls. With his knowledge and activities, he played an important role in obtaining the UNESCO label and placing the drywall technique of the karst wall on the list of intangible heritage of mankind. Mitja also expresses his love for stone by making unique stone products, because, as Aljoša says, "Once you hold a karst stone in your hand, it completely takes over you."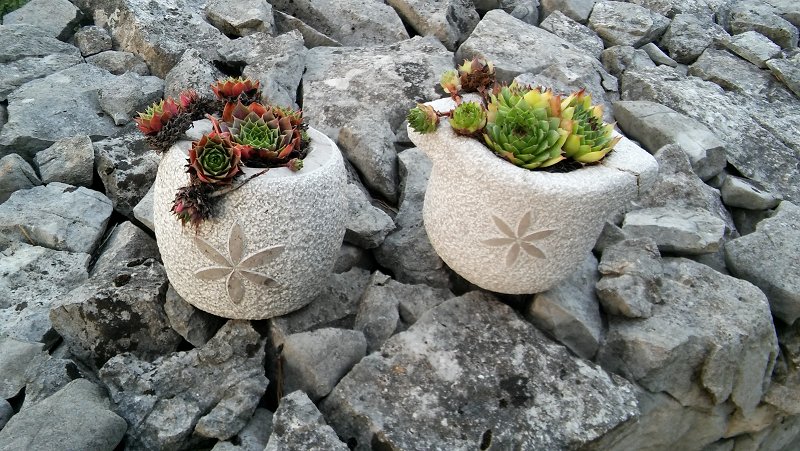 The Kobal couple complements the experience of the Open Villages by offering a picnic area, which they placed on the edge of a linden forest, with a view of one of the most beautiful preserved castles in Slovenia, Rihemberk Castle. Guests, who can also visit them on ordinary or electric bicycles, will feel the mixture of Vipava-Karst climate with the Kobal family. On special request, in addition to renting out a "social space" with a stone grill and a bread oven, they can also light a fire for those unfamiliar with burning. You can bring food and drinks for a picnic under the shade of linden trees, but Aljoša in Mitja can also provide top-quality local meat and vegetables beside homemade wine from a neighbour. If you also want good company, they are excellent hosts. And if you get bored while lying over the Vipava edge, from where the view of the castle and the valley opens up, Mitja will also prepare half-day or all-day presentation of drywall construction. You can always take a look at his workshop, where he creates unique and timeless stone products, and choose a piece for yourself or to gift it to your loved ones.